The pricing of packaging plays a crucial role in determining the overall cost-effectiveness of a company's products. From material selection to environmental impact, various elements come into play when calculating packaging expenses.
Is there an estimated price range or formula that every company should use to help calculate spend on packaging? The truth is, no, because it varies based on many different scenarios. Different packaging materials, designs, and purposes can significantly impact the costs.
It's important to look at the big picture and consider all the factors, including opportunities for improvement and ways to streamline the packaging process, when calculating the packaging costs.
Key Elements to Evaluate in the Price of Packaging
Several elements can influence the price of packaging. Some key areas to evaluate in packaging include:
Material: Are there new materials that allow products to be shipped at a lower per-unit cost?

Labor: Could a change in packaging allow for the process to be automated and remove tedious manual labor?

Freight: Could an adjustment in packaging lower the dimensional weight?

Design: If the package had a better design, could you sell more or sell it at a higher price?

Environmental Impact: Could a change in packaging design reduce the packaging materials used or increase your company's sustainability efforts?

Damages: Would a new packaging design or material cut damage costs?
These questions are just the tip of the iceberg when evaluating your product's packaging, what to spend, and ways to save.
Use our packaging evaluation checklist (with 50+ elements to evaluate) to help you get started.
How to Drive Down Packaging Costs
A top question we often hear is how to drive down packaging costs without compromising quality.
The best way to uncover cost savings is to start with a packaging evaluation. An outside expert review can identify wasted material, inefficient processes, alternative packaging options, and other solutions you are likely unaware even exist.
At New-Tech, our collaborative packaging evaluations involve a team of four to six of our own packaging experts, who will spend time at your facility walking through your processes and evaluating the packaging design, materials, waste, and more. We evaluate everything from increasing purchase quantities to alternative solutions that can provide savings.
Sometimes, it can be a change in packaging material altogether that can decrease costs, increase throughput, and bring labor savings.
In one recent New-Tech collaborative packaging evaluation, we provided recommendations and cost-saving opportunities in various areas, from the material used to the packaging process.
Here are a few examples of the benefits this company gained from a New-Tech packaging evaluation:
"NTP (New-Tech Packaging) found the use of the packed bubble size to be packer preference leading to higher cost. Most packs could use a larger bubble size, reducing the amount of bubble used per pack. We recommend testing a bubble-on-demand system saving time and money."
"It was found that hand stretch film was being used on the machine stretch wrapper. By converting to machine stretch film, [company] will see a cost savings of $3k annually plus 250 less changeovers, creating efficiency and saving time."
"Direct material savings of $33k annually by allowing New-Tech to manufacture rather than purchase from Uline site."
"New-Tech identified 43 packaging supply items and provided pricing that offered $23k savings annually. NTP would also stock a 45-day supply of regularly used items for next-day delivery availability creating cost savings, price protection, and reduced suppliers to manage."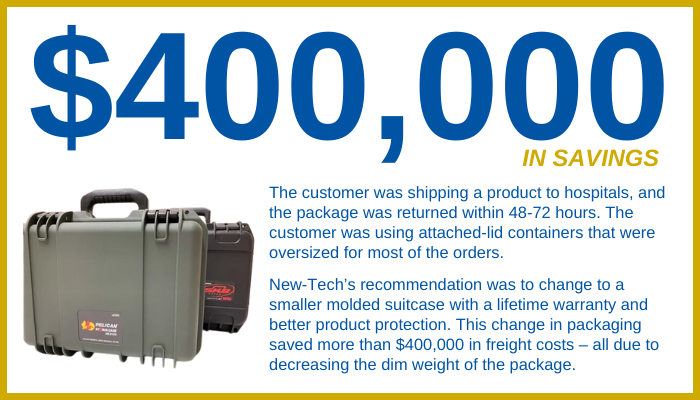 How to Compare Packaging Prices
While pricing through an RFQ may appear to be the fastest way to get a comparison, it's often not apples-to-apples, and you may be missing opportunities. The real value is in a partnership that provides ongoing savings, pricing protection, and added value services, such as assisting in sustainability efforts and continuous efficiencies in the packaging process.
When it comes down to it, evaluating packaging, pricing, and potential cost savings, turn to an expert in packaging who is aware of the latest innovations and forward-thinking on future solutions.