Automation is hot in nearly every industry today. Automated processes increase your productivity numbers, decrease costs, and overcome labor challenges. When it comes to packaging automation, companies often ask: What areas should we automate? Can we afford packaging automation? Where do we start to save and gain the most?
Read on to learn everything you need to know to get started on transitioning your manual packaging processes to automated packaging systems.
What is Packaging Automation?
Packaging automation is the process of packaging products with automated equipment vs. manual labor. Automated packaging solutions vary from singular machines that automate one step to complete systems that automate and integrate the entire packaging process. This variety makes packaging automation an affordable solution for nearly any company in any industry.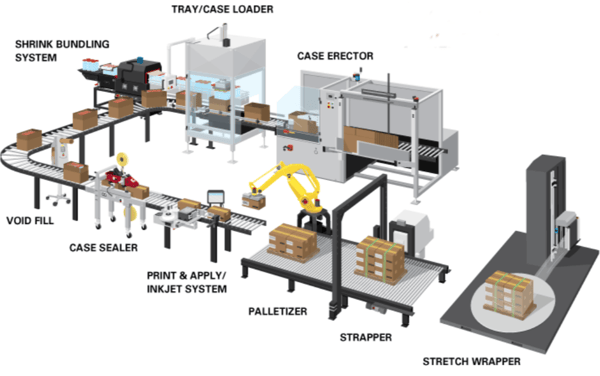 Why Should a Company Automate Packaging?
Automation enables companies to boost their productivity, increase efficiency and delivery times, and gain a constant output of products. This is especially important during times of increased consumer demands or when facing labor shortages.
Here are the top benefits of automating your packaging process:
Gain Efficiency and Consistency. Packaging lines move faster with higher accuracy. Lines keep moving even when you are faced with a labor shortage. Products are ready for delivery faster.
Save on Labor. Cut labor costs and overcome challenges of finding and training new workers in a competitive labor market.
Cut Material Costs. Reduce waste with an automated process that is highly accurate and efficient.
Increase Productivity. Throughput goes up with an automated process that decreases the potential for downtime.
Ease Ergonomic Costs. Reduce injuries, workers' compensation claims, and lost labor time by transitioning highly repetitive jobs to an automated process and shifting those workers to higher-value positions.
What Packaging Automation Equipment Improves Productivity?
When looking to automate your packaging, we recommend starting where bottlenecks occur the most to gain the quickest return.
One of our specialties at New-Tech Packaging is our packaging process audits. We bring a team of packaging professionals to conduct a comprehensive audit of your packaging and workflow processes to solve challenges and uncover cost savings.
To help you get started, here is some of New-Tech's top automated packaging equipment:
Improve throughput (estimated 3.5x faster)
Reduce labor and footprint for packaging
Decrease employee training time
Saves time
Saves on material cost (film)
Improves safety
Improves protection of goods
Provides consistent and efficient wraps
Increases productivity
Increase productivity up to 200%
Reduce labor costs
Reduce repetitive strain and possibility of injury (ergonomic costs)
Increase space on floor due to faster production times
Reduce shipping damages by erecting box properly and consistently every time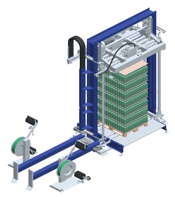 Semi- or Fully-Automated Banding Equipment
Provides consistency in placement, tension, and friction weld
Reduces operator error
Increases productivity
Provides consistency in packaging
Reduces waste compared to manual operation
Automated Labeling Equipment
Saves labor costs
Provides consistent label placement
Increases throughput
Reduces errors
Increase output up to 1.5 times
Bring efficiency by eliminating double taping
Reduce tape costs by eliminating waste
Improve product security with consistent taping every time
Reduce employee injuries and down time (ergonomic costs)
Costs of Packaging Automation
For most packaging automation systems, companies can achieve a return on investment (ROI) in under a year. The switch to automation reduces labor costs and increases productivity simultaneously.
With production demands rising, packaging automation allows you to lower those costs while operating better, faster, and cheaper.
Packaging Automation Company in Memphis, Tenn.
At New-Tech Packaging in Memphis, Tenn., we approach packaging differently by assessing the bigger picture of how your packaging materials and processes impact revenues and expenses.
So often, packaging is treated as a commodity, focusing on the visible packaging materials. When the visible costs are the only ones considered, costly mistakes can be made. Lack of innovation and improvements results in overlooking better choices that could make processes faster with a cheaper overall cost.
Contact New-Tech today to learn more about our packaging workflow/process audits. We will assess your packaging process to uncover inefficiencies and provide recommendations for optimizing or automating those processes for maximum efficiency at the lowest possible cost.