Amazon remains the world's leading e-commerce retailer – the preeminent powerhouse in online business fulfillment – shipping 1.6 million packages daily worldwide.
Always looking for new and innovative ways to increase customer satisfaction and sustainability, Amazon requires that all its products reach consumers in the shortest time possible and in pristine condition.
To that end, they introduced frustration-free packaging in 2008 and have seen remarkable results in the reduction of packaging material. Since 2015, Amazon has eliminated more than 1.5 million tons of it.
What Is Frustration-Free Packaging?
Frustration-free packaging is a key element in Amazon's model for success. Through incentives, it encourages vendors to create and certify their packaging to:
Ensure sustainable, 100% recycled materials are used.
Reduce space when shipped.
Ensure the customer receives products protected from damage.
Furthermore, the packaging must be:
Designed to ship products in their original packaging.
Easy to open.
Designed to eliminate the need for an additional shipping box.
Fulfillment centers and vendors on Amazon's e-commerce platform must meet the frustration-free packaging requirements for certification and incentives.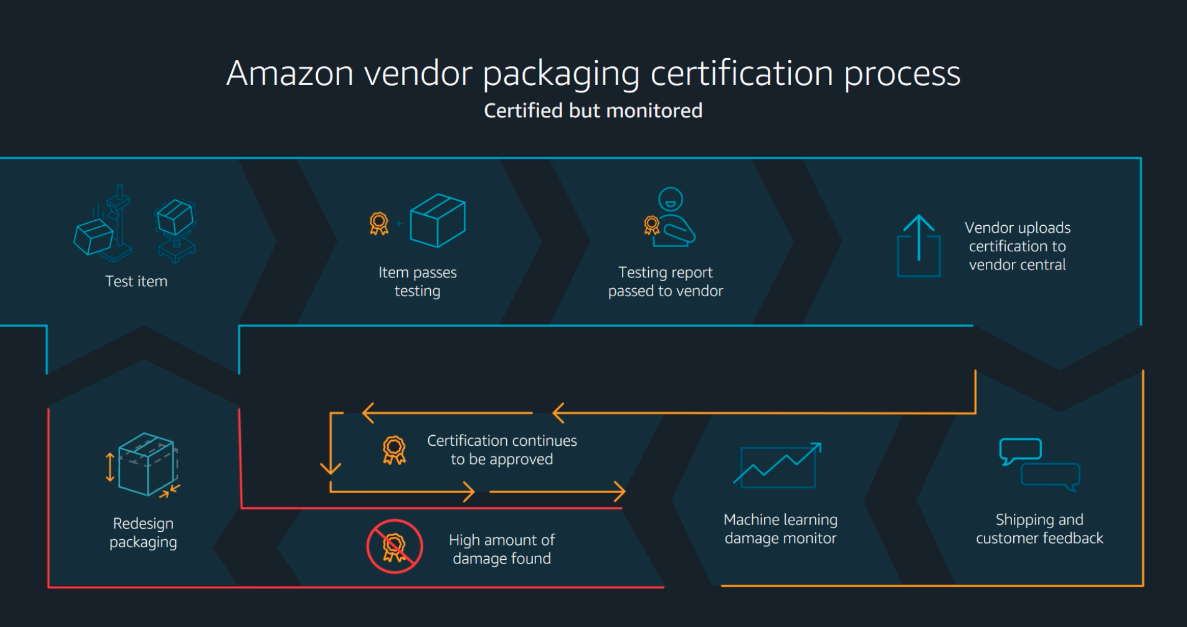 Watch this video for an example of Amazon's frustration-free packaging vs. other retail packaging.
Frustration-Free Packaging Designed With the Customer In Mind
Amazon is customer-centric, and frustration-free packaging keeps that in mind. The goal is to make it easier for consumers who order through Amazon to open their packages and get to their undamaged products quickly. In addition, the company aims to continue reducing waste from packaging and packing materials.
When launched in 2008, the frustration-free concept saw only 19 products meeting the criteria. Today, more than 750,000 products come in frustration-free packaging. And the numbers continue to grow.
Amazon partners with the International Safe Transit Association to test retailers' packages and products. The ISTA checks to see if packaging and products can withstand unexpected transport hazards, including compression, vibration, and falls.
Mattel and Fisher-Price were among the first brands to adopt frustration-free packaging.
What Does Frustration-Free Packaging Mean for Vendors?
Since Amazon launched Frustration-Free Packaging in 2008 – and its incentive program 10 years later – thousands of vendors have signed up and reaped the benefits. As Amazon continues to advance and outpace the sustainable e-commerce solutions field, they now require vendors to meet packaging guidelines through their certification program.
Amazon packaging certification is divided into three tiers:
Tier 1 (FFP-Frustration-Free Packaging): As the name suggests, the goal is to make unboxing an easy, hassle-free experience for the consumer. Packaging guidelines include:

The design should have no windows or cutouts.
Customers should be able to open in two minutes.
No plastic packaging is accepted.
Packaging should be 100% recyclable.
Items NOT accepted include plastic bags, shredded paper, blister packs, foam peanuts, or wire ties.
The package should arrive on the customer's doorstep fully protected.

Tier 2 (SIOC-Ships In Own Container):

The package must be fully sealed for transit and withstand typical transportation hazards. Some SIOC guidelines include the following:

Products cannot be hazardous.
Proper identification labels should be visible.
Any open edges should be fully sealed.
Packaging must protect the product.

Tier 3 (PFP-Prep-Free Packaging):

Vendors secure their products in packaging suitable for shipping. Once at Amazon, no additional packaging is needed. They are boxed and shipped without the need to secure the product. It should arrive at the customer's door fully protected and provide stress-free unboxing for the customer.
After the packaging has been designed and engineered, Amazon requires testing and vendor enrollment. An additional resource available to help guide you through the entire process is the Amazon Packaging Support and Supplier Network (APASS), a third-party group of experts who help vendors test and certify their packaging with Amazon.
Frustration-Free Help from New-Tech Packaging
Let's face it: you're an expert at what you do, but what you do isn't necessarily packaging. You want to earn Amazon's frustration-free packaging certificate, and that's where collaborating with the packaging experts at New-Tech pays off.
With a New-Tech collaborative packaging evaluation, we'll come to your facility, walk through your processes, and evaluate your packaging design with you. We use the word collaborative because we ask questions and want your feedback. And we do this free of charge.
After we evaluate the data, we map our findings and provide recommendations, including the benefits and your potential ROI.
With eco-friendly packaging solutions like rightsizing – using the smallest possible package to protect the product and allow proper functionality – we'll help you lower costs and your environmental footprint. That's a win-win for our customers and our planet.
To learn more about a New-Tech collaborative packaging evaluation, reach out today!
This article was originally published in 2019 and updated in 2023 with the latest information.