These days, companies face complex challenges related to supply chain delays, economic obstacles, and the ever-evolving supply and demand of various products. However, one thing remains the same: Quality packaging is a must-have, and protective packaging is critical for ensuring your product arrives safe and sound.
If your company is looking for ways to decrease damages or revamp its packaging strategies, it behooves you to take a closer look at the various types of foam packaging. This article will discuss foam types, their benefits, and how you can choose the best material for your products.
Why Foam Makes a Great Packaging Material
Protective packaging is necessary for any company, but choosing the ideal material can present unique challenges depending on your industry. For example, the packaging needs of food and beverage companies will look vastly different from those of industrial companies producing potentially heavier, more robust products.
However, no matter your industry, your protective packaging must check the following boxes:
✔ It needs to be durable.
✔ It needs to be cost-effective.
✔ Bonus points if it's sustainable packaging that is recyclable and environmentally friendly!
Versatile and effective for an array of transport configurations, foam packaging provides an excellent packaging solution for companies in any industry. Foam material offers adequate protection against external damage, and you can purchase it in various forms depending on your needs.
The Different Types of Foam Packaging
Different types of foam packaging come with their potential benefits and strengths. Below, we've listed the four most common types of foam packaging, along with their ideal uses.
Cross-linked Polyethylene (XLPE)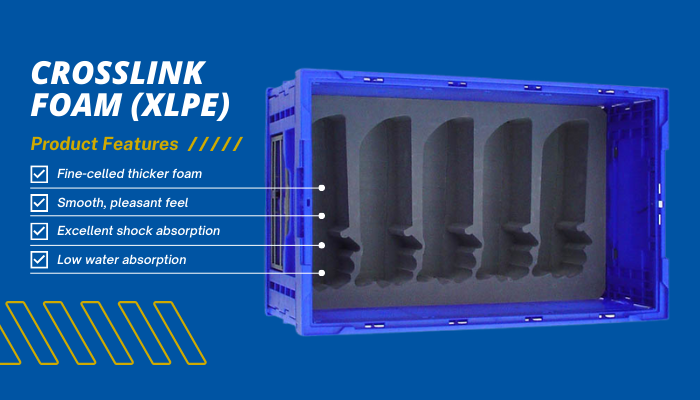 Cross-linked polyethylene (XLPE) is known for its durability, abrasion resistance, and attractive appearance. Packaging for medical devices and equipment often relies on XLPE for its water resistance and ability to protect delicate items. It's flexible and offers excellent buoyancy, dimensional stability, and thermal conductivity.
Polyethylene (PE)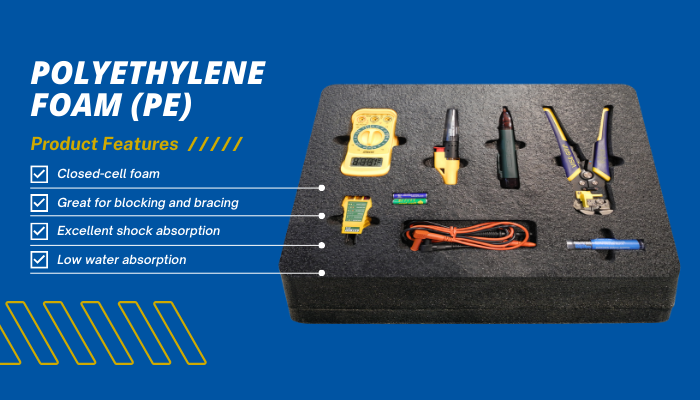 Like XLPE, polyethylene foam (PE) is known for its moisture resistance, durability, and lightweight feel. PE also resists chemicals, water, rot, and mold growth, making it ideal for packaging agricultural goods.
This closed-cell foam is economical and offers excellent rigidity – perfect for blocking and bracing in the package.
Polyurethane (PU)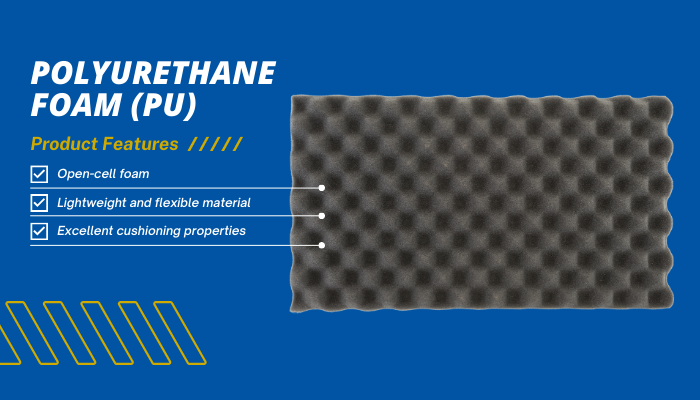 When it comes to packaging, PU is an excellent solution for transporting lightweight but potentially fragile items. The flexibility of polyurethane foam makes it unique, as it can mold easily around products during shipping. PU offers excellent cushioning properties and provides vibration protection.
Expanded Polystyrene (EPS)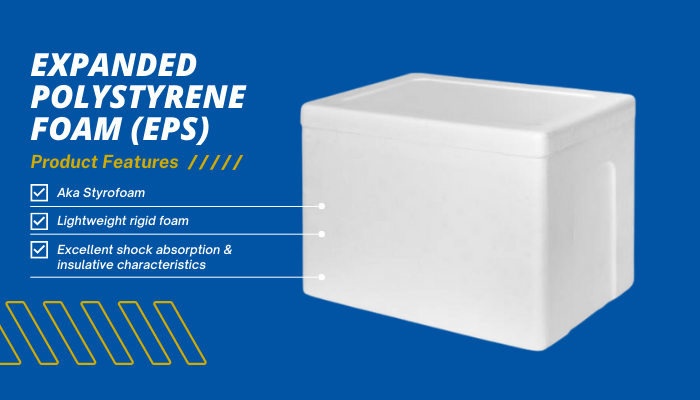 Expanded polystyrene (EPS) is among the most affordable foam packaging materials. More commonly known by the brand name Styrofoam, EPS can provide a durable, fully insulated, yet lightweight packaging solution.
However, a downside of EPS is its rigidness, making it most commonly used for coolers, pads, and blocking and bracing.
How To Choose the Best Foam Packaging for Your Products
Each type of foam packaging has pros and cons. To weigh them accurately, you must consider what kind of products you're shipping and what makes the most sense for your industry. Ask yourself the following questions to help guide your decision:
Consider the appearance of your packaging. Is it important that it looks sleek and stylish, or are you more focused on utility?
How big and heavy are your products? The size and weight of your goods can help determine which type of foam is best suited for your package.
What is your budget for packaging? Understanding your budget will help guide you to a material that fits right in.
Are you looking for a recyclable packaging option? Some foams are made from recycled materials and some can be recycled at end of life.
New-Tech Packaging Provides Innovative Packaging Solutions
At New-Tech, we are a foam packaging manufacturer that also offers design and fulfillment. We can custom design foam for blocking and bracing, cushioning, void fill, and custom case inserts.
To learn more about our packaging solutions, contact New-Tech Packaging today.