There's no doubt that selecting the right packaging is critical for businesses that have their products shipped, transported, and delivered. Ideally, the packaging solution you select will be effective, affordable, easy to use, and stable.
For that reason, more and more businesses are turning to foam packaging to protect their products while keeping their budgets in check. Foam is a versatile packing material that can be used alongside other materials to keep your products safe and secure.
Let's explore the benefits of foam packaging and discuss how to determine if it's right for your business needs.
What is Foam Packaging?
Foam packaging is a type of packaging material designed to protect items from damage and provide them with extra support during movement. There are different types of foam packaging, from polyethylene to convoluted foams, with all being able to absorb shock and impact. This multi-functional material is easily combined with other packing materials and can be customized to suit your product line and shipping needs.
What Type of Protection Does Foam Packaging Provide?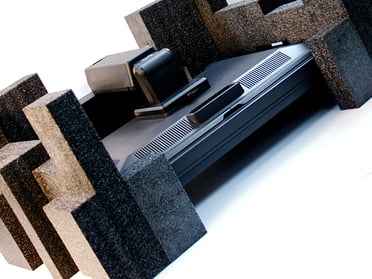 No business wants to lose money on damaged products. This can be easily prevented by using the right packaging for your items. Foam packaging protects your products from drops, falls, the climate, and more.
Foam packaging provides:
Shock protection from drops, falls, vibration, sort systems, and abuse.
Surface protection from nicks, dings, scrapes, and scratches.
Insulative protection to keep products in a set temperature range for an extended period of time.
What Other Benefits Does Foam Packaging Provide?
Foam packaging offers more benefits than protection and support alone. It also adds value to your brand and gives your product a more professional appearance. Think about it. How many times have you opened a product you've ordered, only to have packing peanuts fall out everywhere? Or have had to dealt with the disappointment of receiving a damaged product?
You add credibility to your brand and boost your reputation when your customers receive products that are well-presented and cared for. Plus, foam packaging has a clean, put-together appearance. Unlike paper or packing peanuts, foam stays in place and doesn't transfer any color onto products. They'll be more likely to order from you again, leave a positive review, and recommend your business to others.
Foam packaging is also budget-friendly. Businesses in all industries seek ways to maximize their budgets and cut costs without sacrificing quality. Foam provides solid protection and support at a friendly price. It's easy to store and install, so you don't have to worry about it taking up too much space or resources.
With a variety of styles from custom foam box inserts to tear-off sheets, you're bound to find the right one for your product lines.
Is Foam Packaging Right for Your Products?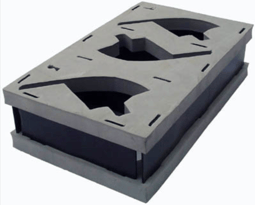 The benefits of foam packaging are nearly endless. Now that you've learned the highlights, use this list to determine if foam is right from your products.
Is there a chance that the product might be jostled, dropped, or subjected to sorting systems? If yes, you might need the extra protection foam provides.
Does your product need a secure, custom fit to help ensure it doesn't move and endure damages during shipping? If so, foam can be customized for a perfect fit and creates a physical barrier between the product and the outside world.
Is your product sensitive to outside temperatures? If yes,

foam-in-place packaging

can provide an insulating layer for it.
How We Mold Foam Exactly to Your Specifications
If you're manufacturing high-end products, such as medical devices, aircraft parts, laptops, camera lens, and more, you can't risk them rolling around in the case. Our custom-fit foam packaging is perfect when there's no room for error.
Our unique five-step process to ensure your packaging is perfect includes:
Step 1: We design the packaging around your specifications.
Step 2: We create a prototype for testing.
Step 3: We run it through a range of tests to ensure that it offers the level of protection you require.
Step 4: We have our results validated by a third-party lab or ship-test.
Step 5: We present the findings for your final approval.
Once approved, we'll produce in-house the final packaging that will be protecting your product. You can rest assured that the foam packaging that we create for your product will keep it properly protected
Products that Use New-Tech Foam Packaging
We've created foam packaging for a variety of products, which include
Air conditioner base pads
Laptop package protection
Aircraft components
Medical devices
Computer and electronic components
Why Choose New Tech For Your Foam Packaging Needs?
When you partner with New-Tech, packaging is one thing you won't have to worry about. Our design and research teams are industry leading experts, developing the best foam packaging solutions on the market.
Foam may not be the solution for every product, but it is the best packaging option for those products needing ultimate protection.
Contact New-Tech Packaging today to request a foam packaging assessment and quote for your product.