This article features Packaging Specialist Corey Oselies from New-Tech Packaging.
When was the last time you evaluated the industrial packaging tape your team uses to seal boxes for shipping or storage? ……… (dead silence). That's the typical answer we get.
Tape is often missed when companies are looking to reduce costs associated with product damages, pilfered packages, and wasted materials.
"One of the biggest misconceptions is that all tape is the same, and it's definitely not," Corey Oselies, Packaging Specialist at New-Tech, says. "I've seen companies cut the amount of tape they use in half just by switching to a different kind of tape. Instead of using three to four strips of tape to seal every box, they now only need a single strip, and the box is sealed even better than before."
What Are the Different Kinds of Industrial Packaging Tape?
The three main types of tape used by manufacturers for packaging and transport of products include hot melt, acrylic, and water activated. Let's unroll the differences.
Hot Melt Tape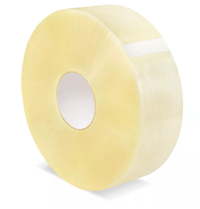 Hot melt packaging tape is a high-tack adhesive tape that is easy to apply and best used for items that will not be in extreme conditions. Its top features include:
Strong immediate hold
High tack adhesive, however, it will weaken over long periods or in cold temperatures
Very compatible with boxes made with high recycled content
Easy to apply for packers
Great with automated box tapers
Easy to open for end users
Stays secured in temperatures between 45 degrees and 120 degrees
Acrylic Tape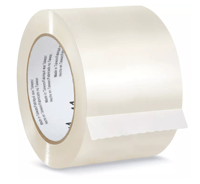 Acrylic tape is a pressure-sensative, long-performance tape that uses a chemical glue to ensure the tape sticks in extreme conditions. Its top features include:
High tack adhesive with long-term performance
Durable to extreme conditions, such as being exposed to high heat and sunlight
Great for boxes being stored in non-temperature controlled warehouses
Great for boxes being transported through high-temperature regions
Stay secured in a wide range of temperatures between 32 degrees and 140 degrees
Water Activated Tape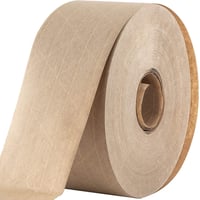 Water activated tape is a highly tamper-proof tape that requires a special machine to apply a layer of moisture to activate the adhesive. Its top features include:
Extremely high tack adhesive
Tamper-resistant, cannot be opened and retaped
Great for items where theft protection is a high priority, such as pharmaceuticals and valuable electronics
Highly durable and strong, making it great for heavy items
Easy to print on for customization and branding
A paper-based environmentally friendly option
While water activated tape may be more expensive than others, many manufacturers find they save money in the long run due to reducing theft, product damages, and wasted material.
When to Make a Switch in Packaging Tape
"Most manufacturers don't switch tape often enough and aren't even aware there could be cost savings by changing tape," Corey says.
Unfortunately, they often become aware after customer or retailer complaints of damaged products because the tape didn't hold or the box was tampered with.
"Every company should do a routine evaluation of their packaging, and that includes the tape. Having the right tape can make a huge difference in reducing costs and improving customer satisfaction," Corey says.
Here are some questions to help uncover if you may need to switch tape:
Is product security a concern? Are you unsatisfied with the amount of pilfered packages you currently have?
Are you unsatisfied with the amount of damaged or returned products you have due to the tape not holding through transport?
Are you planning to store products for long periods on shelves or in a non-temperature-controlled warehouse?
Have you changed your process to immediate shipping versus previously storing packages?
Are you changing from manual taping to an automated taping machine?
Are you using two to four strips of tape to seal most packages?
Has your team complained about difficulty working with the tape used?
Has it been over a year since you've had your packaging tape and process evaluated?
If you answered yes to any of the above, you are due for a cost-savings evaluation of your packaging tape and process.
Start with a Packaging Evaluation with New-Tech Packaging
At New-Tech Packaging, we can conduct a Collaborative Packaging Evaluation for you. This involves one of our packaging experts going to your facility to see exactly how you pack, the materials used, and the current processes in place.
We'll ask various questions about the importance of packaging presentation, transportation factors, storage conditions, sustainability, etc.
You'll receive an analysis with our best recommendations on where you can make changes in tape and other packaging materials and processes, to uncover cost savings and increase value.
Start today by contacting New-Tech Packaging for an analysis of your void fill and pack-out process.