We are thrilled to announce the launch of a new groundbreaking product, the Pregis AirSpeed HC Renew PCR, a first-of-its-kind high-pressure air cushioning film.
This innovative packaging product, which contains 80% post-consumer recycled (PCR) content, is setting a new benchmark in the realm of sustainable packaging.
New Air Pillow Packaging: Superior Protection with Less Environmental Impact
In an era where consumers are increasingly environmentally conscious, the demand for sustainable packaging solutions is on the rise. The new Pregis HC Renew PCR addresses this demand head-on, offering an in-box shipping solution that delivers the same level of superior protection and durability as traditional air cushions but with a significantly reduced environmental footprint.
Ryan Wolcott, Pregis Chief Sustainability Officer, shared in a recent company news release, "In today's business landscape, sustainability is a crucial component for success. At Pregis, we are committed to driving innovation across the value chain, and our development of HC Renew PCR is a testament to that commitment. By offering a circular solution that extends the life of plastics, we are helping businesses achieve their environmental commitments without compromising performance or customer experience."
Life Cycle Analysis Proves Sustainability Impact
The use of post-consumer recycled content in the Pregis HC Renew PCR film not only reduces landfill waste but also conserves energy and decreases greenhouse gas emissions. When compared to cushioning film made with virgin resin, the HC Renew PCR reduces:
Carbon emissions by 40%
Fossil fuel usage by 65%
Water usage by 70%
The results, via a life cycle analysis by Pregis, take into account all product lifecycle phases, including materials, manufacturing, and end-of-life.
The HC Renew PCR also includes a printed How2Recycle drop-off label, providing clear instructions for end users on proper disposal.
HC Renew PRC Air Cushioning Film Available Now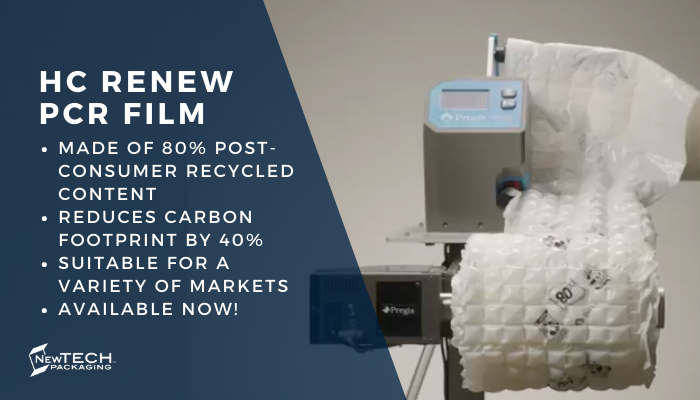 The HC Renew PCR air cushioning film is available now and compatible with the AirSpeed Ascent and Versa.
HC Renew PCR is an ideal choice for a variety of markets, including electronics, home goods, automotive, e-commerce retail, and anywhere cushioning is needed.
Pregis Inflatable Packaging to All Be Store Drop-Off Recyclable
Pregis also has announced its release of store drop-off barrier film that does not contain nylon, so it can be store recyclable. All current films will be converted to this, according to Pregis, meaning all films being sold will be store drop-off recyclable and able to be reused to reduce landfill waste.
At New-Tech Packaging, we place high importance on sustainability and are proud to be able to offer packaging products that help our customers empower their end-users to make more sustainable choices.
Learn more about New-Tech sustainable packaging.